Welcome to Class One's Webpage.
A visit from an Author
Recently, the children in Class 1 have really been enjoying a book called "The Carnivorous Crocodile." It is a very funny story and we all laugh a lot when reading it. We have been very lucky as Jonnie Wild, the author of the book, came to visit us. We acted out his story, The Carnivorous Crocodile, and Mrs Chapman was the crocodile! We all had a really fantastic time and learnt a lot about writing stories and how to look after our world and the animals in it.
Meeting Jonnie has really inspired us to write, paint and draw. The children have even painted 'Mud Monsters' based on Jonnie's second book....The Mud Monster!
Wear it Wild
We all had great fun dressing up as animals to raise money for WWF. The children's costumes were fantastic and we raised £13.50 to go towards helping endangered animals. Thank you to everyone who donated. We also enjoyed painting pictures of the animals we had dressed up as and the reception children wrote riddles and read them to the older children. Have a look at the pictures below!
June 2019
Can you believe it is the final half term of school! Where has the past year gone? This half term, our topic will be All Creatures Great and Small. Please find the Theme Grid and Homework Grid below. With the reception children, we will also be preparing for the transition into Year 1. Mrs Chapman and I are looking forward to the final few weeks and all the exciting things we have got planned.
Balance Bike Training
Recently, we were lucky enough to receive some training on how to use balance bikes. We all had lots of fun completing the obstacle courses and having races on the bikes!
April 2019
We hope you all had a relaxing Easter break.
This half term, our theme is 'All Things Bright and Beautiful.' Please see below for the theme grid and the homework grid so you can see what we will be learning about! We will be talking a lot about looking after our world and the importance of recycling. We would love to hear how the children care for the environment at home, e.g. turning lights off, recycling, composting, saving water, reducing plastic use etc.
Thank you!
Miss Harrison and Mrs Chapman
A very, very special letter
A few weeks ago the children wrote to their favourite author...Julia Donaldson. We also made models of the gruffalo and sent her the pictures. We walked over to the post box to post our letters.
This week, we received a letter back from her! We were all very excited!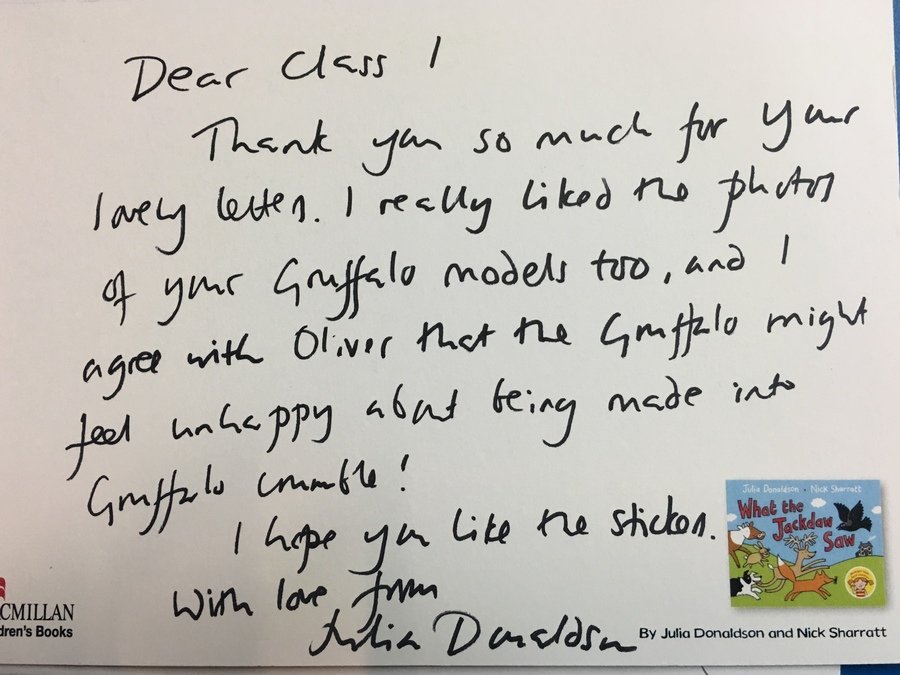 A visit from Ripon Firefighters
We were all very excited to get some speical vistors to our school. We got to sit in the fire truck, hold the hoses and meet some real firefighters! When we got back to the classroom the children were keen to capture their experiences in a range of ways including stories, drawing, role play and construction.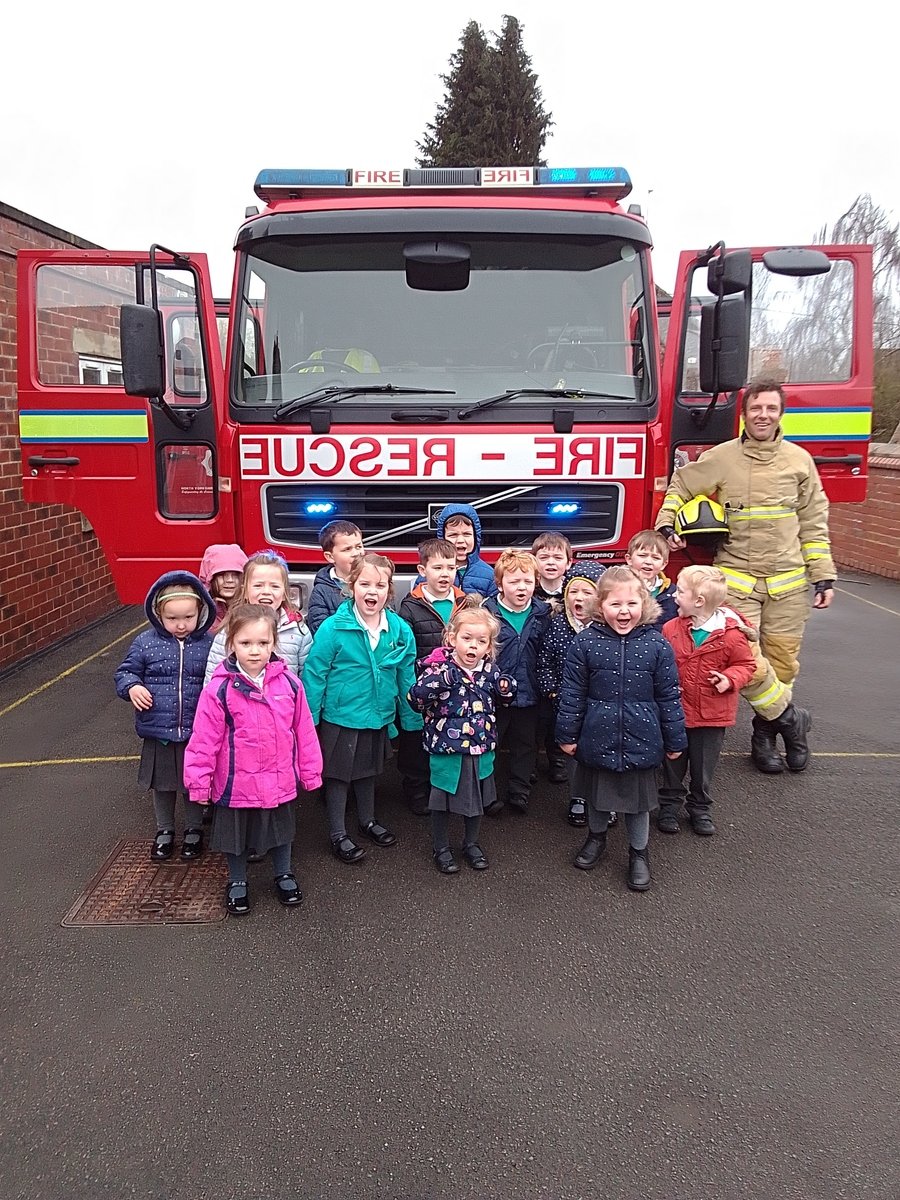 World Book Day
The children all enjoyed dressing up for World Book Day. We learnt all about Elmer the elephant and enjoyed some stories that the Class 4 children had written for us.
Reading Workshops
Thank you to everyone who attended the reading workshops. Please find the presentation below if you could not make it or if you need a reminder of any of the information.
March 2019
Welcome back to school after our half term break!
This half term, our classroom has had a bit of a re-vamp. Please feel free to pop in and have a little look at how we have changed things around.
To go along with the children's current interests, our topic this half term is 'People Who Help Us.' We have already had a visit from the RNLI and next week the firemen will be coming to visit. If you know anyone who might like to come in to chat with us (policeman, doctor, farmer, hairdresser, engineer...anyone who helps us) then please let me know as we would love to have as many real life visitors as possible to add to the children's experiences and understanding of this topic. Please find the Theme Grid and Homework Grid for this topic below.
Fun in the Snow
The children were all delighted when we had a brilliant snowy morning at school. We all had lots of fun exploring our garden, making snow angels and snowballs, as well as adding some paint to the snow and mixing the colours together.
Here are some photos of the children enjoying the winter weather.
An Unexpected Visitor
One morning, the children were shocked to discover that Goldilocks had been into our classroom, broken a chair and eaten some porridge! There was a letter from the police asking the children to help them with their enquiries. The children helped to create some 'wanted' posters to aid the police in their search.
Later, whilst the children were having their snack, Goldilocks appeared outside the window! The children were very excited about this and enjoyed searching for clues in our garden.
January 2019
Happy New Year! Welcome back everyone to our second term at school. We have a lot of exciting things planned for this half term and I can't wait to get started.
This half term, our theme is going to be "Once Upon a Time." We will be reading lots of traditional tales including: Jack and the Beanstalk; The Three Little Pigs; Goldilocks and the Three Bears; The Elves and the Shoemaker. We will also be reading and exploring some Bible Stories, particularly those from the Old Testament. As always, we have lots of activities planned around these stories! If you have any traditional tales at home it would be great to share them as a family. Additionally, if your child would like to bring the book into school for us to read with the class then they would be very welcome to do so.
Please find the Theme Grid and Homework Grid for this half term below. We look forward to seeing any home learning you have been doing. As always please feel free to upload any observations or home learning to Tapestry.
Nativity
This year, for the second time, we were very grateful to Minksip Farm Shop for allowing us to use their barn for our Nativity play. This was an incredible opportunity and allowed us to really imagine what it might have been like for Mary and Joseph in the stable in Bethlehem. The children did an absolutely incredible job and made both Miss Brown and myself so proud. This year, our nativity followed a very traditional route and we sang songs such as Little Donkey and Away in a Manger. It was fantastic to see the children taking such ownership of their performance and really being able to enjoy exploring the true meaning of Christmas. Thank you again to all of those who came to watch and support us and a special thank you to the McCullough family for helping us to transport our stage.
We are excited to share the photographs of our Nativity with you.
December 2018
Our first term at Roecliffe seems to have gone so quickly! This half term has been packed full of learning. In maths, we began the half term by looking at 2D shape and more recently we have been practicing our addition and subtraction. During our PE sessions, we have been doing a little bit of yoga and the children have relished the challenge of experimenting with different ways of moving. As well as this, we have been enjoying activities such as making play dough, practicing our cutting and the reception children have been taking part in Forest Schools. We also loved going to watch Jack and the Beanstalk at the Harrogate Pantomime!
One of the highlights of this term for both Mrs Chapman and myself was our class collective worship where we explored one of our school values - enjoyment. We learnt the rainbow song and the Makaton signs to go alongside this. We then had great fun teaching this to the rest of the school! We also showed everyone our paintings of rainbows and talked about the things that we enjoy.
See below for some recent photographs.
November 2018
We have had such a fantastic first half term at school. Have a look below for some more photos of us enjoying the past few weeks. We have been taking part in lots of Autumnal activities such as making pumpkin soup and harvest bread. We also all got very excited when the big tree outside our garden was chopped down! Mrs Chapman and I hope you have all enjoyed your half term holidays and are feeling refreshed and ready to start back at school.
This half term, our topic will be Celebrations and Festivals. We will be thinking ahead to Christmas and practicing for the nativity play. As well as this, we will be exploring different festivals both in the UK and worldwide. Please find the Theme Grid and Homework Grid below.
We are looking forward to see what the next few weeks of learning brings!
October 2018
Wow, can you believe we are already half way through our first half term of school! The time is flying past. We have been doing so much and the children are progressing and learning so quickly.
Here are some photographs of what we have been up to over the past few weeks. The nursery children have been reading the Ugly Duckling and, more recently, have been focussing on Hickory Dickory Dock (look at our big clock that we have in our classroom!) We have also been painting self portraits, looking at different kinds of families, making models and, of course, getting messy!
We hope you enjoy seeing what we have been up to. Mrs Chapman and I are really enjoying seeing what you have been doing at home on Tapestry too!
September 2018
Welcome to Roecliffe and to Class 1,
Mrs Chapman and I hope you have all had a wonderful summer holiday. We are excited for the year ahead and everything that we have planned. It has been my first couple of days in the classroom too (and Mrs Chapman's first September) so we have all enjoyed getting to know each other and everyone else in school over the past couple of days.
As you will know, this year, the children's learning will be being documented through a programme called Tapestry. This is available through a free app or online. Each of you should have a parents log in so you can see what the children have been doing during the school day. You can also comment on or like the observations which we would find very useful (especially if you have any information to add about what your child enjoys doing at home). Most day-to-day information that you need will be uploaded to Tapestry. Here on the school website you will find information regarding our themes for the start of each term, along with any exciting things that we have been doing that we would like to share with everyone.
Our theme for this term is "This is Me" (inspired by The Greatest Showman). We thought this was the perfect theme to begin the school year and we can't wait to get to know all your children. There is some additional information detailing what we will be learning on the theme grid. It would be useful if you could read through it so you can continue the learning at home! We also have a homework grid with small activities for your children to do. This will be coming home in a few days time in your child's homework book. Please find the theme grid and homework grid below.
We hope that you enjoy sharing your child's learning with them. Feel free to pop into the classroom for a chat at any time with either myself or Mrs Chapman if you have any questions.
Miss Harrison and Mrs Chapman