Football Tournament
On Wednesday 29th March, Class 4 took part in a football tournament at Queen Ethelburga's. There were many other local schools that also took part in the 6 a-side friendly. Class 4 were really pleased to have been a part the afternoon and even more delighted to come away with some medals. Have a look at the pictures below to see the fun that was had and their accomplishments.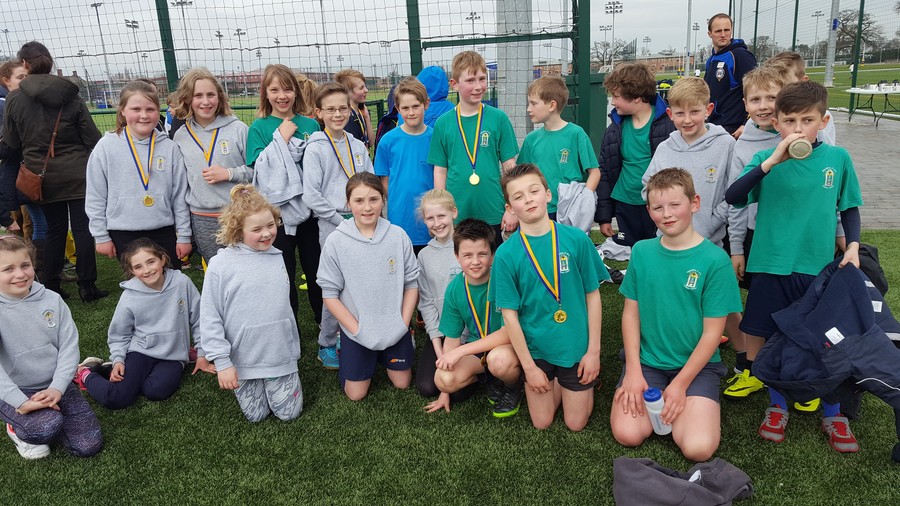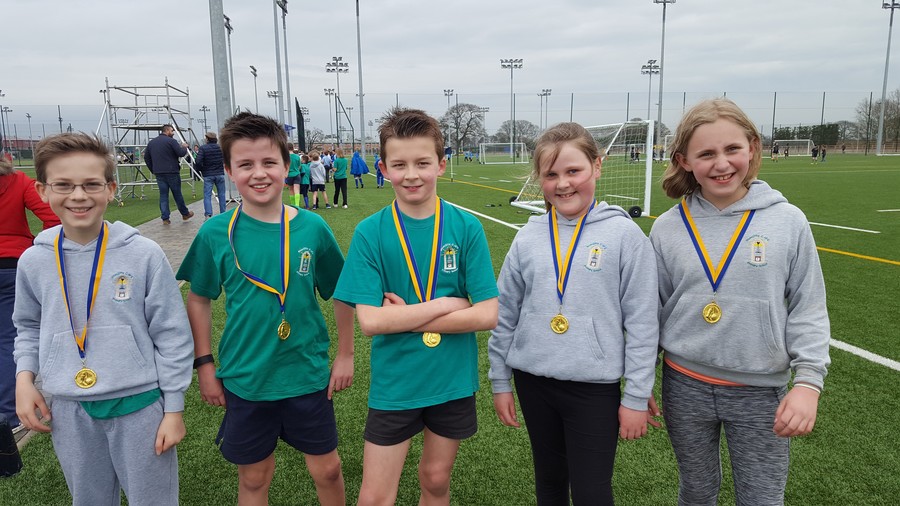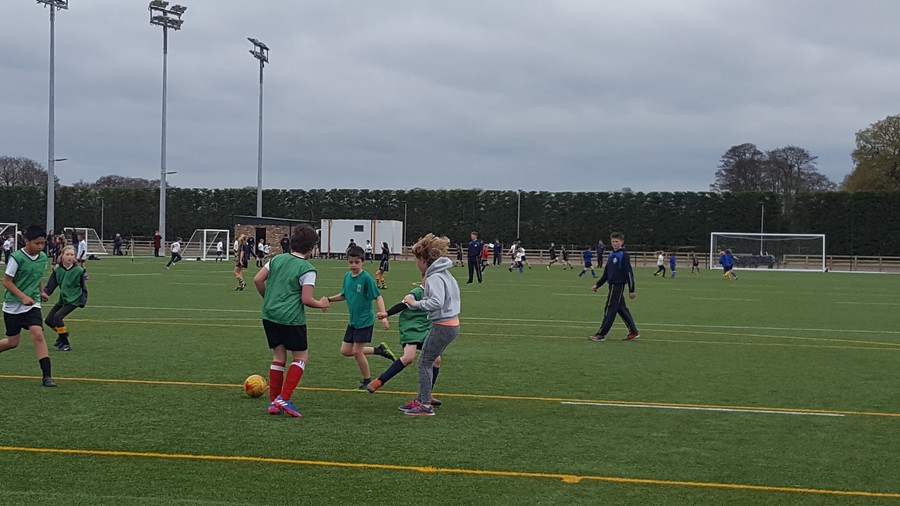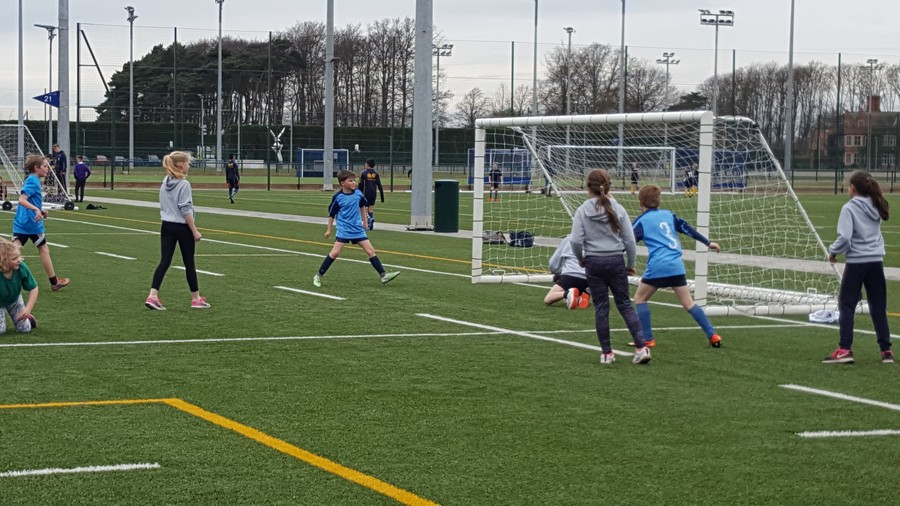 Class 4 - Collective Worship
7th March 2017.
It was Class 4 Collective Worship this morning and they were all amazing. The theme was confidence and they certainly were confident in sharing their thoughts and reflects on this theme. The celebration began with a role play to demonstrate just how easy it can be to knock someone's confidence but it is also just as easy to build it up again. We then went on to discuss what confidence means to us. This was followed by some members of class 4 sharing times when their confidence was tested. Poems and a bible reading were also shared. Well done all class 4. You were amazing.
Welcome back to Class 4. We hope you have had a fantastic half-term break and are looking forward to the second half of the Spring term. We certainly finished Spring 1 in style with the Dance Festival 2017. Class 4 performed to a song from the hit musical ,'Matilda', with great enthusiasm, ability and agility! It was a joy to watch the children confidently perform in front of other schools from our cluster - well done!
This half-term, our new theme is: 'The Changing British Monarchy'. You can find our new theme grid here.
You can also find our new timetable here. PE will be on a Tuesday afternoon (led by Mr Mason) and on a Friday afternoon with Mrs Harker-Jones.
Teaching Days:
Monday morning, Tuesday, Wednesday, Thursday morning - Mrs Holloway
Monday afternoon - Ms Atkinson
Thursday afternoon, Friday - Mrs Harker-Jones
We will be exploring British history to learn about the monarchy and changing royals - in chronological order! In Literacy, we will be exploring classic fictions whilst also looking at recounts, poetry and discursive texts in the Big Write. In Maths we will be learning all about fractions, decimals and percentages.
You can take a look at the different eras within British history, and the monarchs within these, on the BBC Education website, here:

Need to login to spag.com for your homework? Click on the image below:

You will also find the Purple Mash login page, if you click on the image below:

We are looking forward to another wonderful half-term with Class 4!
Mrs Holloway & Mrs Harker-Jones
This week in Class 4 our maths work has been focused on measures and specifically length. To consolidate our understanding of how far a mile and a kilometre is and how to convert between the two, we went on a maths walk. First of all we measured how many of our steps fit into one metre, using this to making estimates about longer distances. We then set off on our walk. We all tried to count our steps so we could estimate when we had reached 100m. We then discussed the fact Usain Bolt runs that far in under 10 seconds! We carried on walking recording as we reached 1/4, 1/2 and then a whole 1km. Finally we walked a mile. On the way back to school we walked the whole mile without stopping, this enabled us to calculate how fast we were walking. We reached school in 14min39sec so we rounded it to 15mins. This meant we were walking an average of 4mph. Well done class 4!
On Monday, Class 4 took part in their e-safety workshop, 'Dot.com'. Different scenarios were set up, and then through the use of drama we explored how we could react safety to them. The workshop was not only great fun but also very informative.
What a busy couple of weeks we have had. We have only been in school 9 days yet we have launched our safety theme with a workshop from 'one a day'. We have been on a maths walk and received a very surprising letter describing how new safety guidelines may be introduced into school. Before all of that however Class 4 would like to share with you a Christmas poem (I know it is a little late). Hopefully you may recognise the model on which is was based. Click here to listen to our poem
It is difficult to believe that we are already only a matter of weeks away from Christmas. Before then though, we have an exciting half term planned in Class 4. Our theme of Disney will continue throughout the term and the film 'The Lion King' will be our main focus.
At the beginning of term all the staff received training on how the online learning resource, Purple Mash could be used to develop and enhance learning in the classroom. To promote it's use many of tasks in the grid homework can be completed on Purple Mash. A copy of this homework can be found here.
We are really excited to be at the beginning of what we know will be a fun and enjoyable year ahead. This terms theme is Disney, which we know will be brilliant! So many different activities have already been planned but it will involve a lot of hard work. There are lots of challenges ahead but we look forward to working as a team to achieve great things.
Click here to download this terms theme grid
Teaching Days
Monday morning, Tuesday and Wednesday and Thursday morning – Mrs Holloway
Monday afternoon - Ms Atkinson
Thursday afternoon and Friday - Mrs. Dalton
We hope this has all the information to equip you for the start of what will be a very successful year. We are looking forward to celebrating many successes as the year progresses.
If you would like to discuss any aspect of school, have queries over homework, need support or advice on any school matter, please do not hesitate to pop into school at any time.
Best wishes, Mrs Dalton & Mrs Holloway