Welcome to Class 2's page
Welcome back!
Please click here for the latest theme grid and here for this terms homework grid.
Summer 1
Our class book is flat Stanley by Jeff Brown, the children have had fun predicting what kind of things they would get up to if they were as flat as pancake. We have also been reading the books of Beatrix Potter and we are studying her life and legacy. Our whole school book is 'The Tale of Peter Rabbit' by Beatrix Potter, so the children will be experts in no time.
The children are very excited by our 'Royalty' theme. They had a role play session on Wednesday, writing laws for Britain if they were the ruling monarch. I'm glad to report they were very sensible and kind rulers. We look forward to the Royal Wedding of Prince Harry and Megan in May and as a landing pad for our theme we will be having a kings and queens dress up day to celebrate.
The children are in for two P.E delights this half term. Not only are they being taught by the amazing Total Sports coaches on a Monday but on a Friday afternoon, they are being taught both Drama and PE by the staff from Queen Ethelburga's college. I look forward to seeing what my class creates with them.
Thank you for your support and I hope you can make it to our class collective worship on Wednesday the 2nd May.
We had such a ball on World book day, from a bake off to reading in boats! Everyone had such a great day. Well done to all those children who wore some amazing costumes and told us all about their favorite book.
Welcome back!
Please click here for the latest theme grid and here for this half terms homework grid.
Spring 2
This half term Class two are going to be doing all sorts of exciting learning, based around our theme 'Hot and Cold'. The Children will be learning about seasonal weather patterns in countries around the world, with special focus on Peru and the Rain forest. We will be reading various stories about 'Paddington Bear' by Michael Bond and comparing his new home in the UK to his true home in Lima, Peru.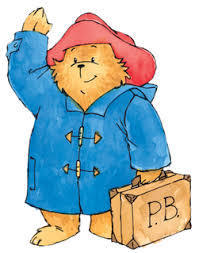 Our school text this term is 'The Lighthouse keeper's lunch' by Ronda Armitage. We will be using this text through a range of subjects, from making shape patterns to collecting data about birds. I would like to say thank you for an amazing response from the half term bird watch, the children will be creating a class chart to find out which birds were the most common. In Art the children will be practicing various skills, from sketching to making collages. We will research the artist Henri Rousseau's 'Tiger in a tropical Storm' painting to help create our own rain forest paintings.
Our PE lessons will be very exciting as we are going to be learning Archery, indoors! I can't wait to see the children take part in an in school archery tournament at the end of term. This term is set to be a busy, but exciting term. There will be World book day, the run up to Easter and our class collective worship.
Thank you for your continued support and I hope you are all able to join us on Tuesday the 6th March 9.10-9.30 am for our class collective worship.
Spring 1
We were very lucky to have Mr Hans (Rose's dad) come in and talk to us about the festival of Diwali, the festival of light. We learnt all about the celebrations that are held all around the world, the food looked so delicious and we read the story of Rama and Sita. We now know that Diwali is going to be on the 7th of November this year, so we will hold a Diwali party to celebrate! Thank you so much Mr Hans and to Rose for organising this for our class. The children put together a short presentation for class 1 to tell them all about Diwali after they had learnt so much from Mr Hans.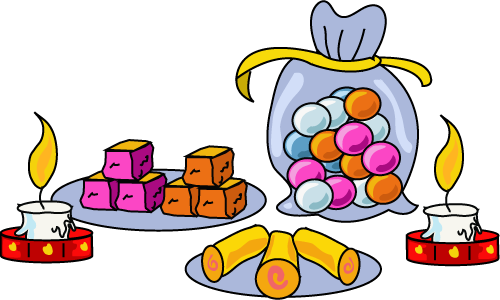 Well done to Chris, Connie and India who brought in some very interesting things to show and talk about. Connie has been to the Jorvik centre in York and had a Viking coin. India has been experimenting with crystals over the Christmas holidays and Chris brought in a stag antler from his holiday in the Arctic Circle.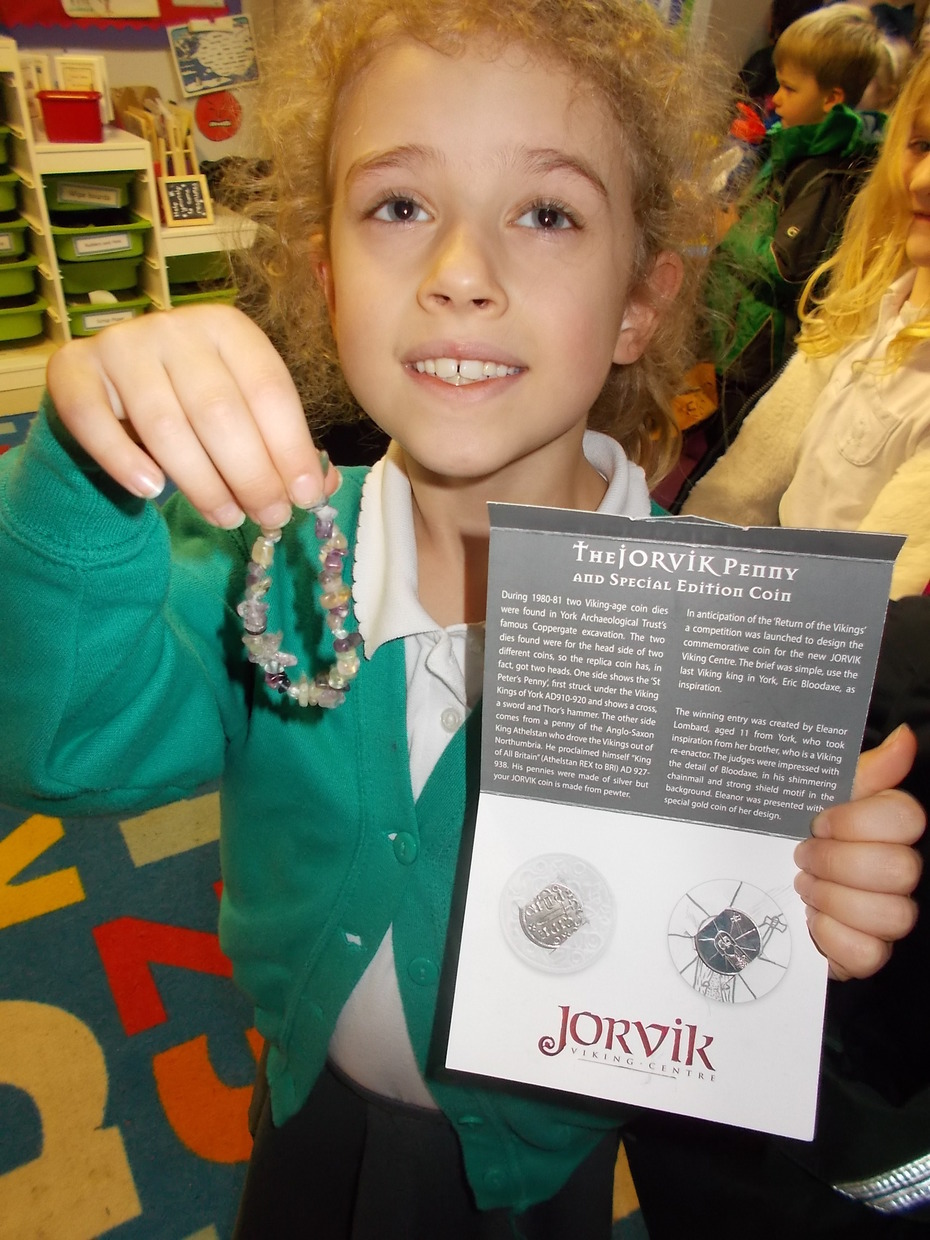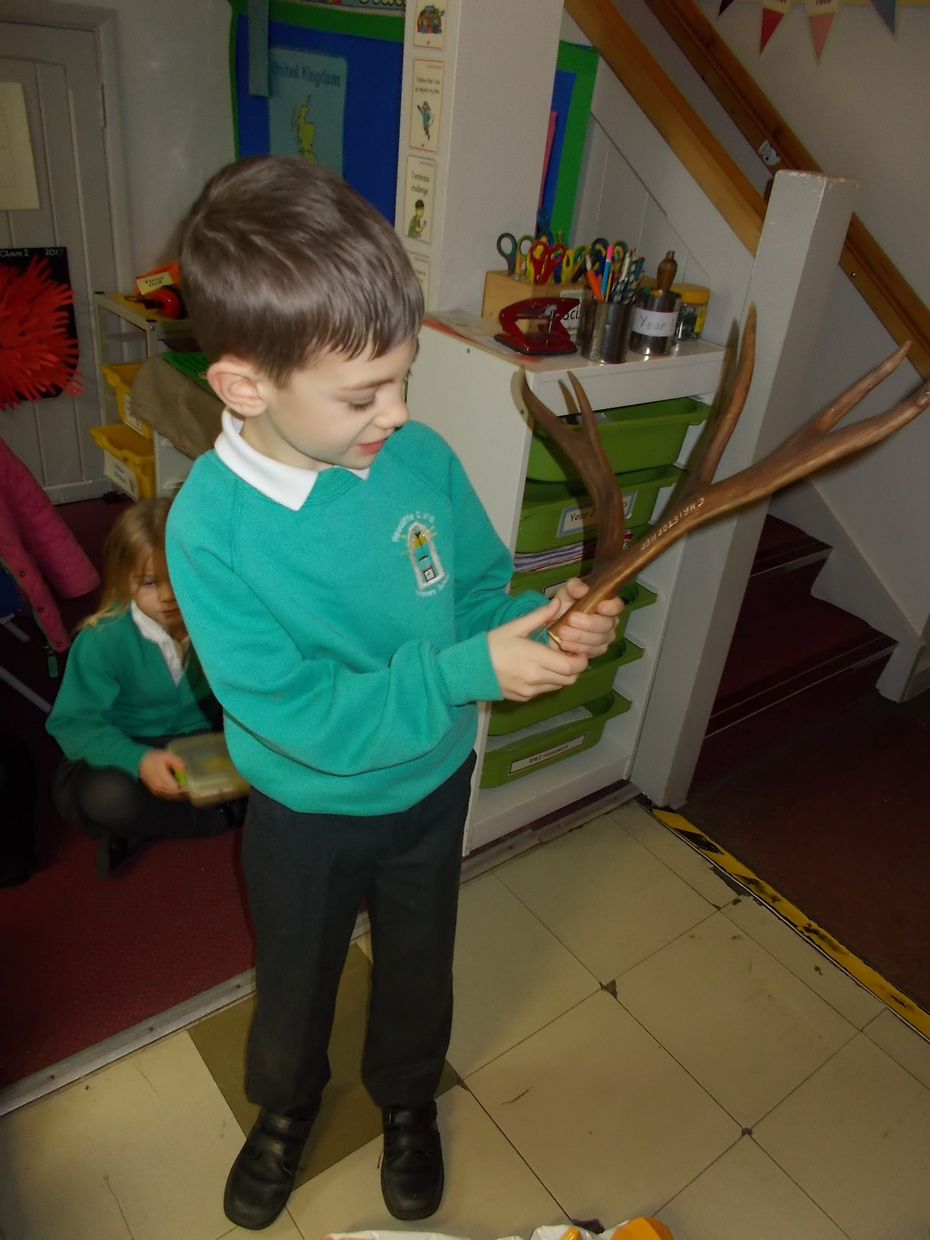 Welcome back!
Please click here for the latest theme grid and here for this half terms homework grid.
This half term Class two are going to be busy doing work based around our theme 'Whatever the Weather'. The Children will be learning about daily and seasonal weather patterns in the UK. We will be recording the weather, writing seasonal poetry, and creating our own Weather dance for the 'Mardi Gras' Dance Festival at the Galtres centre.
In Science the children will be learning about parts of the human body, the senses and classification of animals. Miss Atkinson has been telling me how enthusiastic the children are in her Science lessons.
This week the children have got right back into the swing of things. They are always so eager to learn and I'm glad they all had a lovely break. They children love sharing what they get up to over the weekends and over half term holidays. With this in mind I have decided to have a 'show and tell' session every Friday afternoon as part of Golden time. This will be for three children at a time (this will be on a first come, first serve basis. But everyone will get a chance to show something by the end of the spring term). This will give the children the chance to improve their speaking and listening skills and to tell everyone some news. They could bring in something linked to our theme, something that interests them or something of educational value.
Thank you for your continued support and I wish you all a very happy new year!!
Miss Katie Brown
Class 2 Teacher
Autumn 2
Class 2 took part in lots of Christmas festivities this term. There was even a visit from an elf! The children all looked fabulous in their Christmas jumpers and we had a wonderful party with Class 1. What a wonderful end to this year.
Merry Christmas!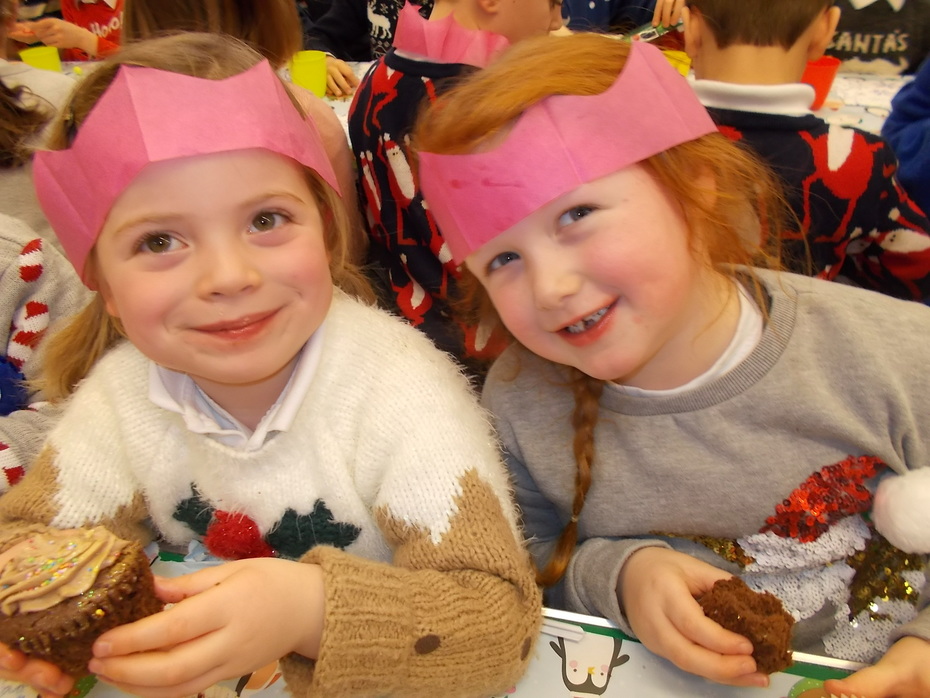 The children have been learning about giving instructions in ICT. There was a visit from Miss Brown's jam sandwich making robot (who looks quite familiar) and it made quite a mess! They learnt that Robots or machines need very specific instructions and it should what their job is. The children worked hard to get the robot to make the perfect jam sandwich.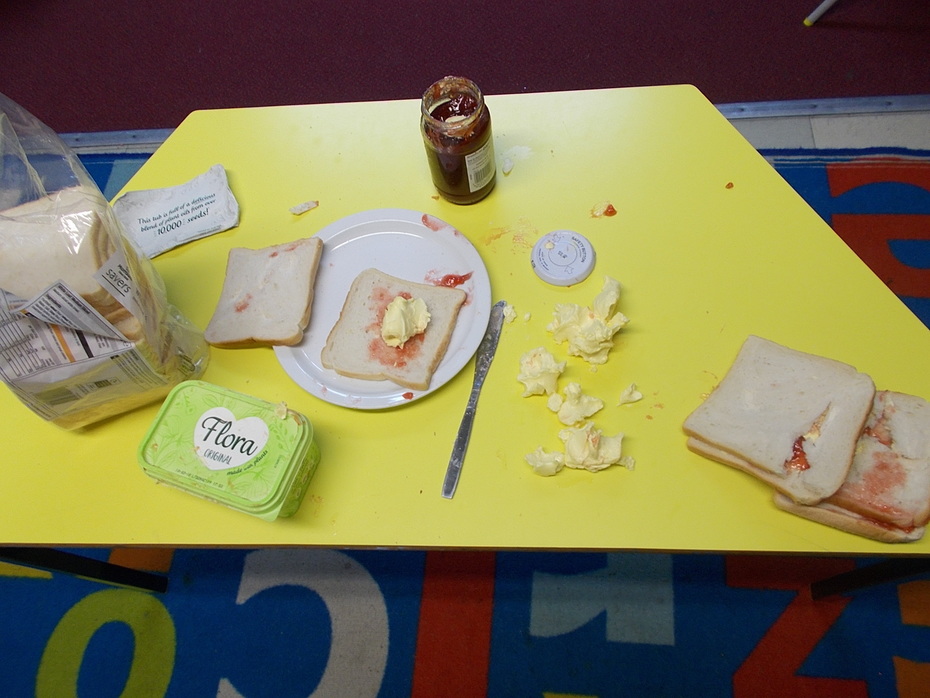 School trip 2017
Class 2 had an amazing trip to York's chocolate story and The York Minster. They learnt about the famous three confectionery companies that were founded in York; Terry's, Cravens and Rowntrees. They now know there is an 'art' to eating chocolate and they got to try lots of delicious (and some not so delicious) samples.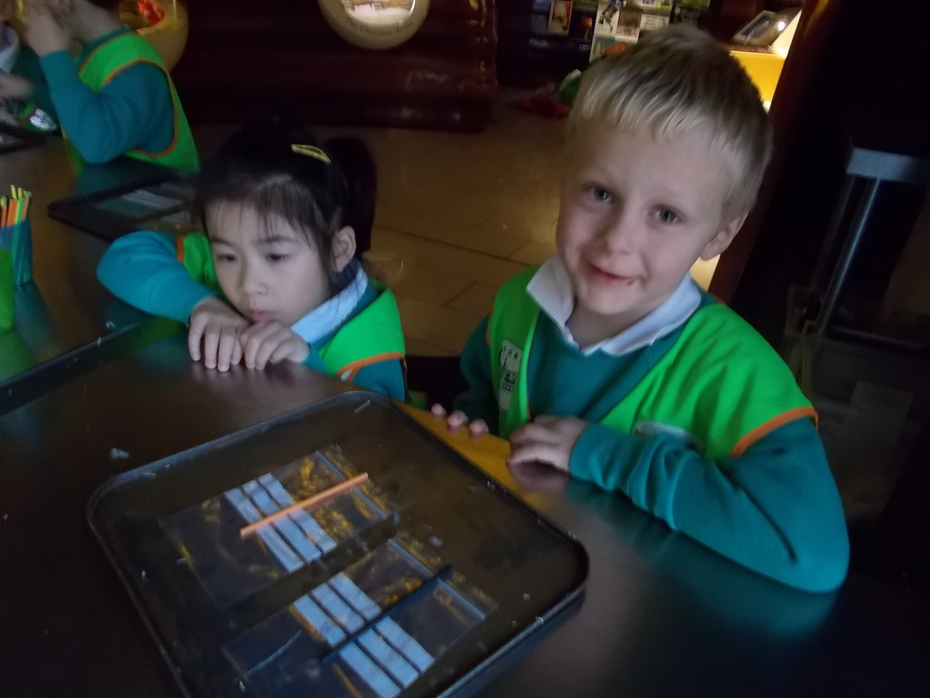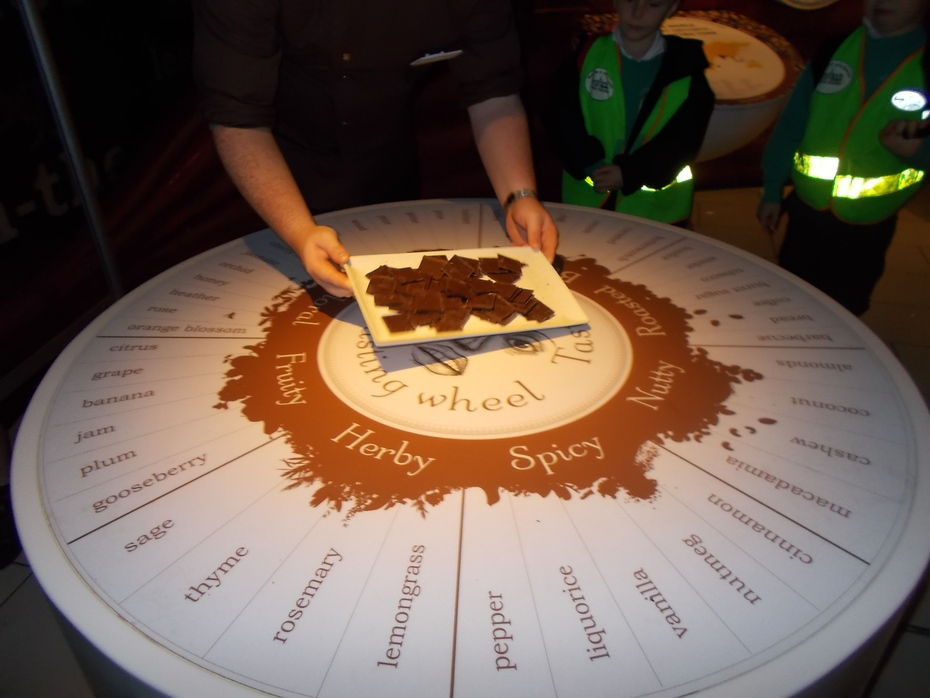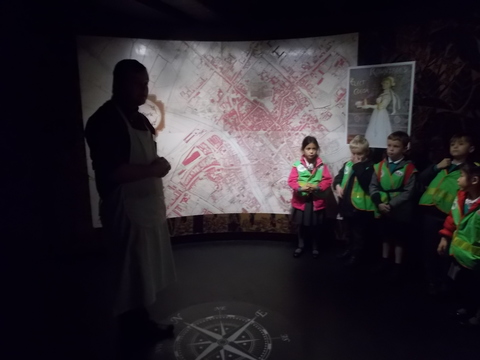 York Mister was beautiful! The children were shown around and told of the history of the cathedral. The children were most impressed by the stain glass windows called 'The Five Sisters'. The guide had the children approach the windows looking at the floor and then when they were close enough he told them to look up. The children were amazed at the detail and colours of the windows.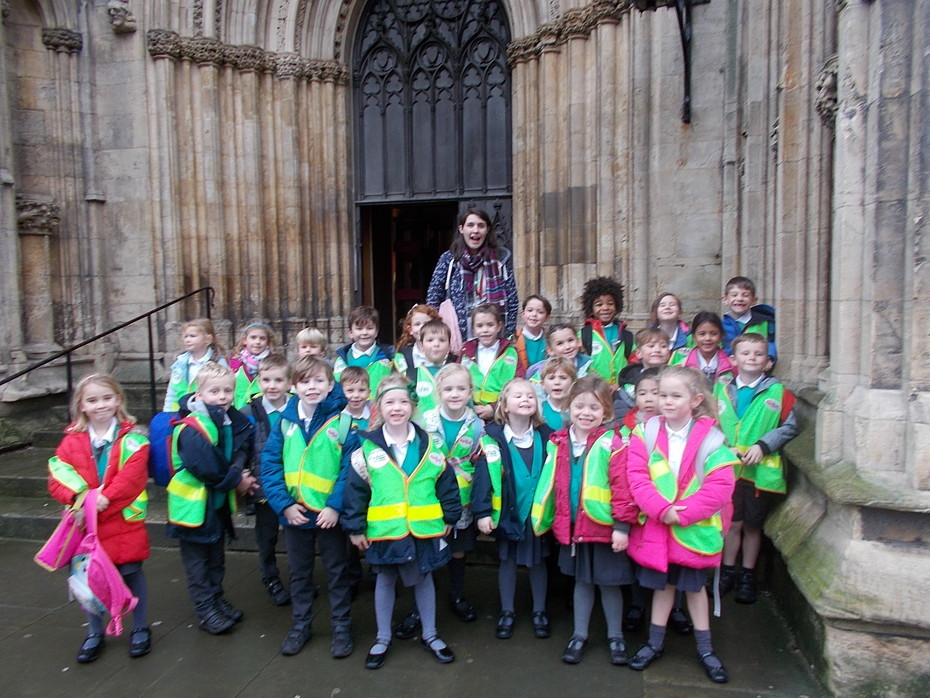 Well done to Class 2 for their first Class Collective worship of the year. The theme was 'Fair Trade'. The children described the journey of a banana from the farmers in a far away country to our lunch boxes. They explained that it is important that everyone gets paid a fair amount for the work they put in. Buying 'Fair Trade' products ensure that everyone gets a decent pay.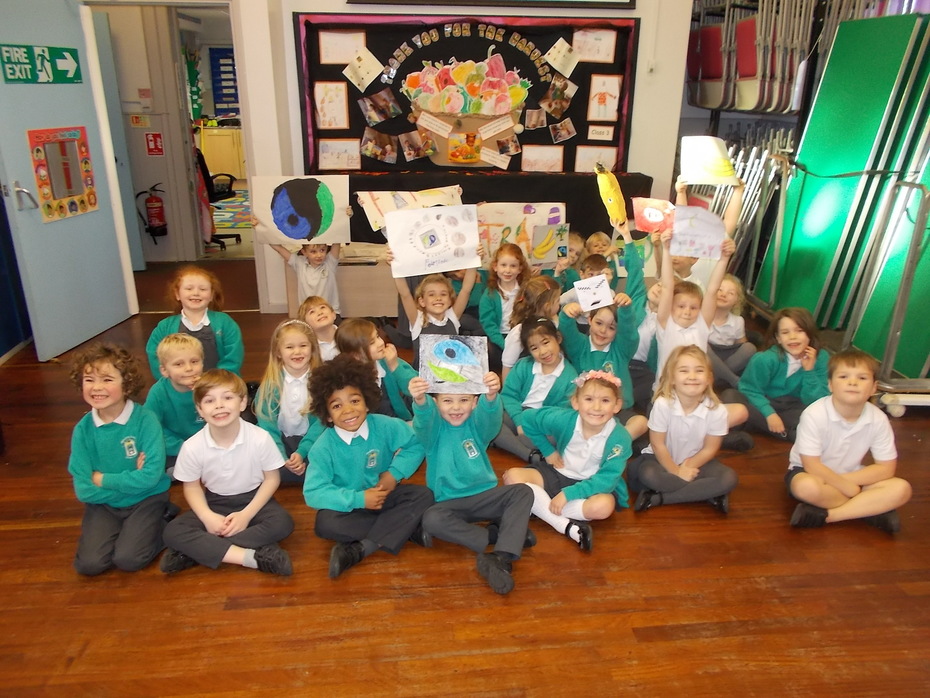 Class 2 made Christmas cards from fair trade products.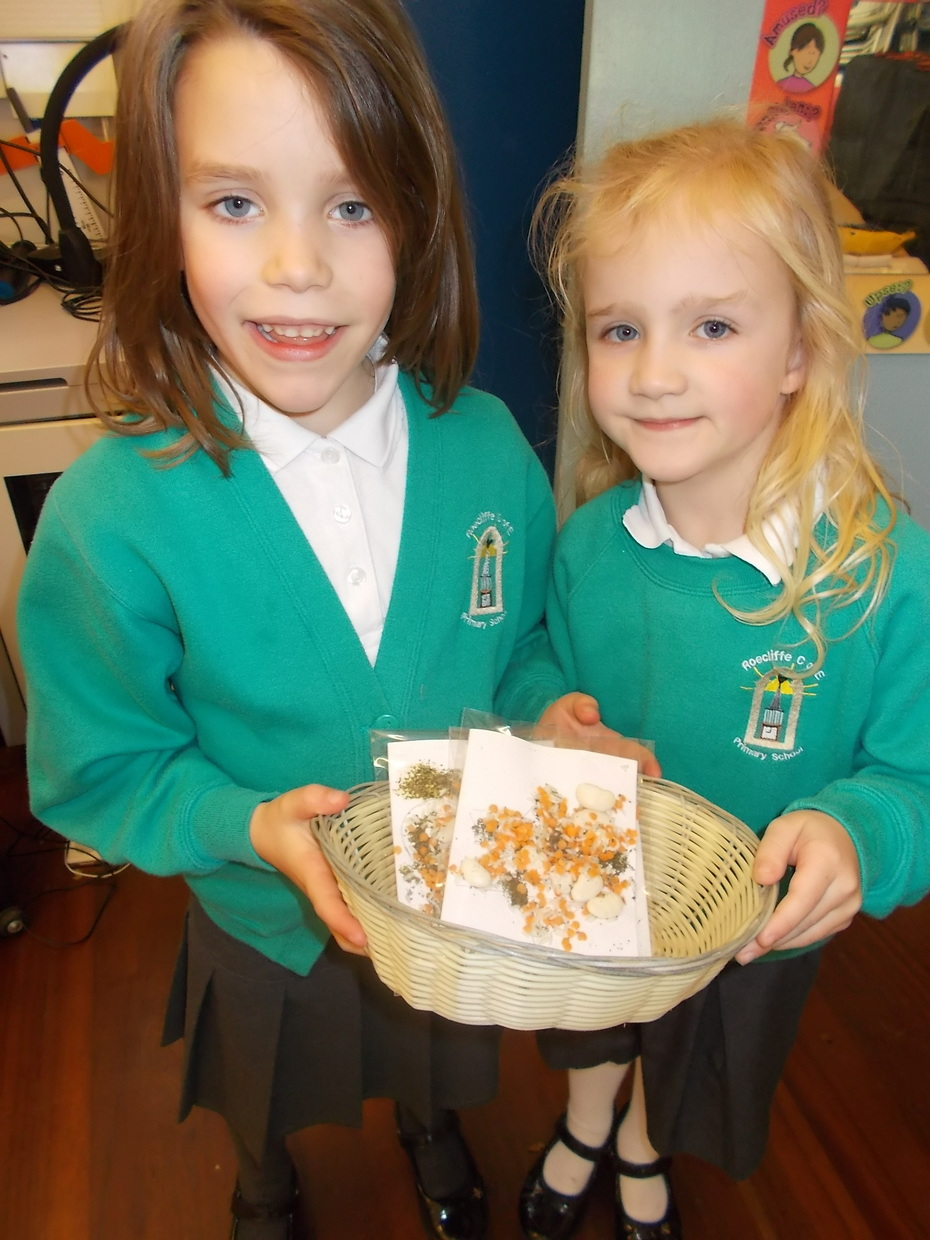 Please click here for the latest theme grid and here for this half terms homework grid.
This half term Class two are going to be doing all sorts of exciting learning, based around our theme 'Sweet ideas'. The Children will be learning about York's confectionery and chocolate history. They will discover how famous York is for its sweet produce and who founded the famous companies. We will be reading 'Charlie and the Chocolate Factory' by Roald Dahl and deconstructing the Oompa Loompa song to create our own song and dance.
In Science the children will be exploring what materials are the most absorbent and then they will look at forces. We have begun our literacy lessons based around the book 'The Tunnel' by Anthony Browne and we will link this book to traditional tales, including 'The Gingerbread Man'. In computing the children will learn about giving instructions to electronic devices, there will even be a visit from Miss Brown's jam sandwich making robot!
With Christmas just around the corner we are all geared up to have a spectacular term. As a self-described drama queen I can't wait to see what the children can do on the stage, when we come to put this year's nativity together with Class 1.
Autumn 1
Class 2 have had an exciting start to the year!
Our theme is fire and the children have been busy at work exploring fire safety and 'The Great Fire of London'.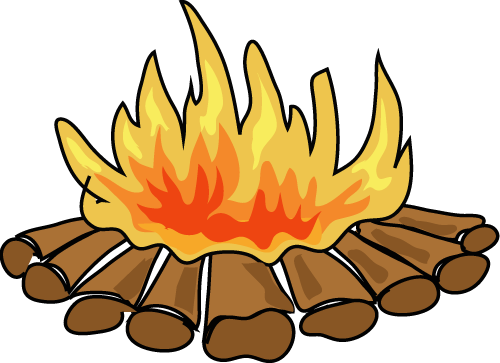 Visit from Ripon Fire Crew
This term the children had an exciting visit from Mrs Helen Richardson, who is the fire safety officer for

the North Yorkshire Fire and Rescue Service Community Safety Officer for the Harrogate and Ripon district. She came to the school and gave the children an important talk on fire safety.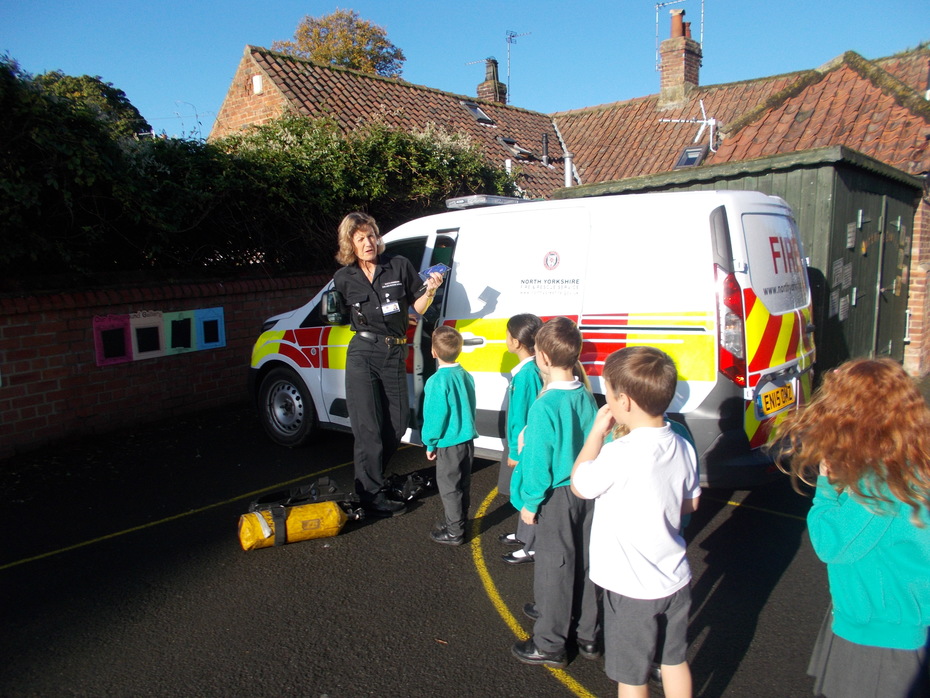 She also brought with her the Ripon fire crew and their fire engine.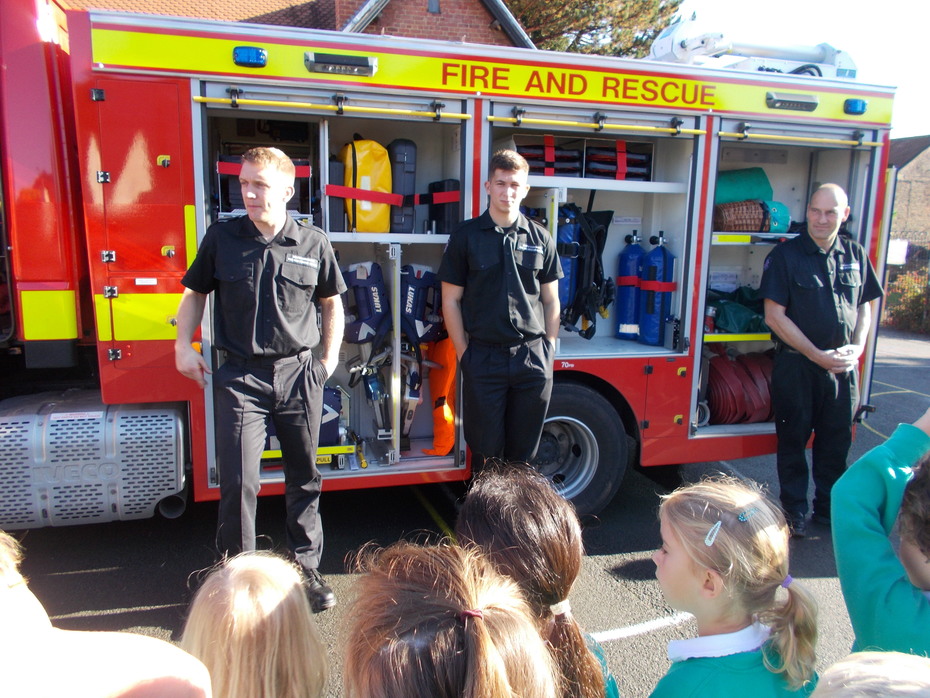 The children were informed that the fire service don't just put out fires; they save animals, help during floods, assist in traffic collisions and various other emergencies.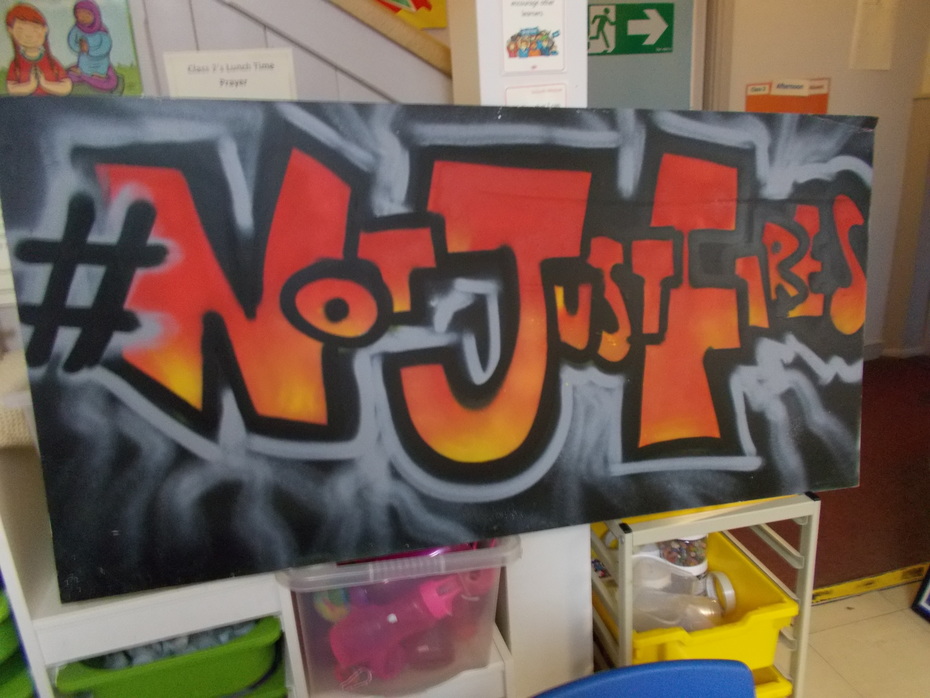 After the fire safety talk, the children were invited to have a go at using the fire hose. They loved this and were talking about it all day afterwards. We even invited Class 1 to join in on the fun.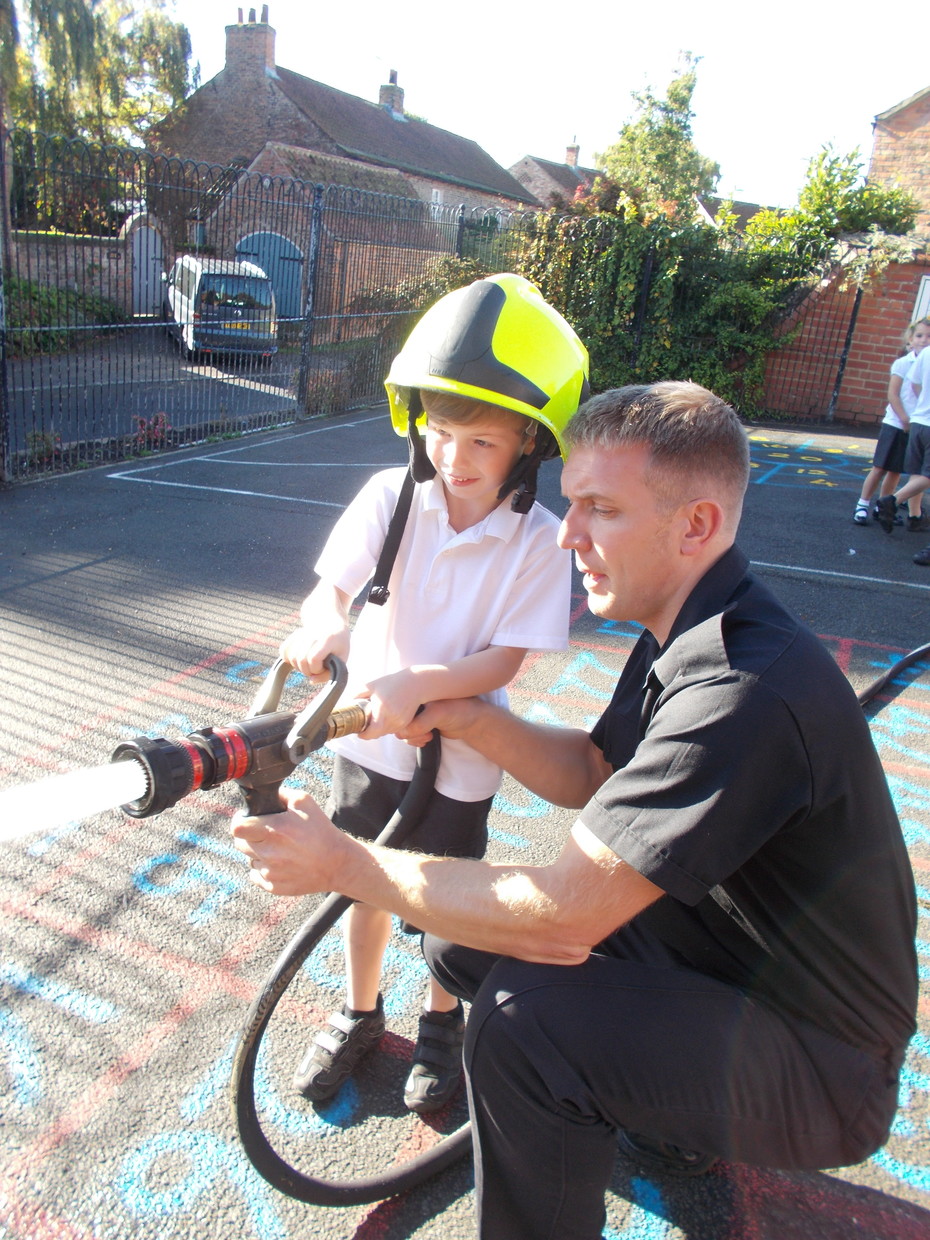 The children had a great morning and Helen even gave them homework. She challenged them all to go home and make a safety plan for their homes. We hope to invite Helen back and show her the work the children have done relating to fire safety.
From all the children and myself we would like to say thank you to Helen and the Ripon fire service.
'The Great Fire of London'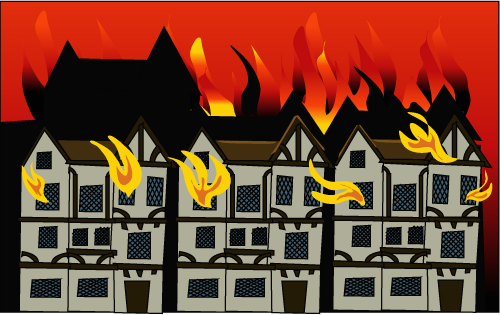 The children have been learning about the events of the 'The Great Fire Of London' in 1666. They have been baking, creating art work and writing about the event.
The Children made the cakes that Samuel Pepys thought started the fire.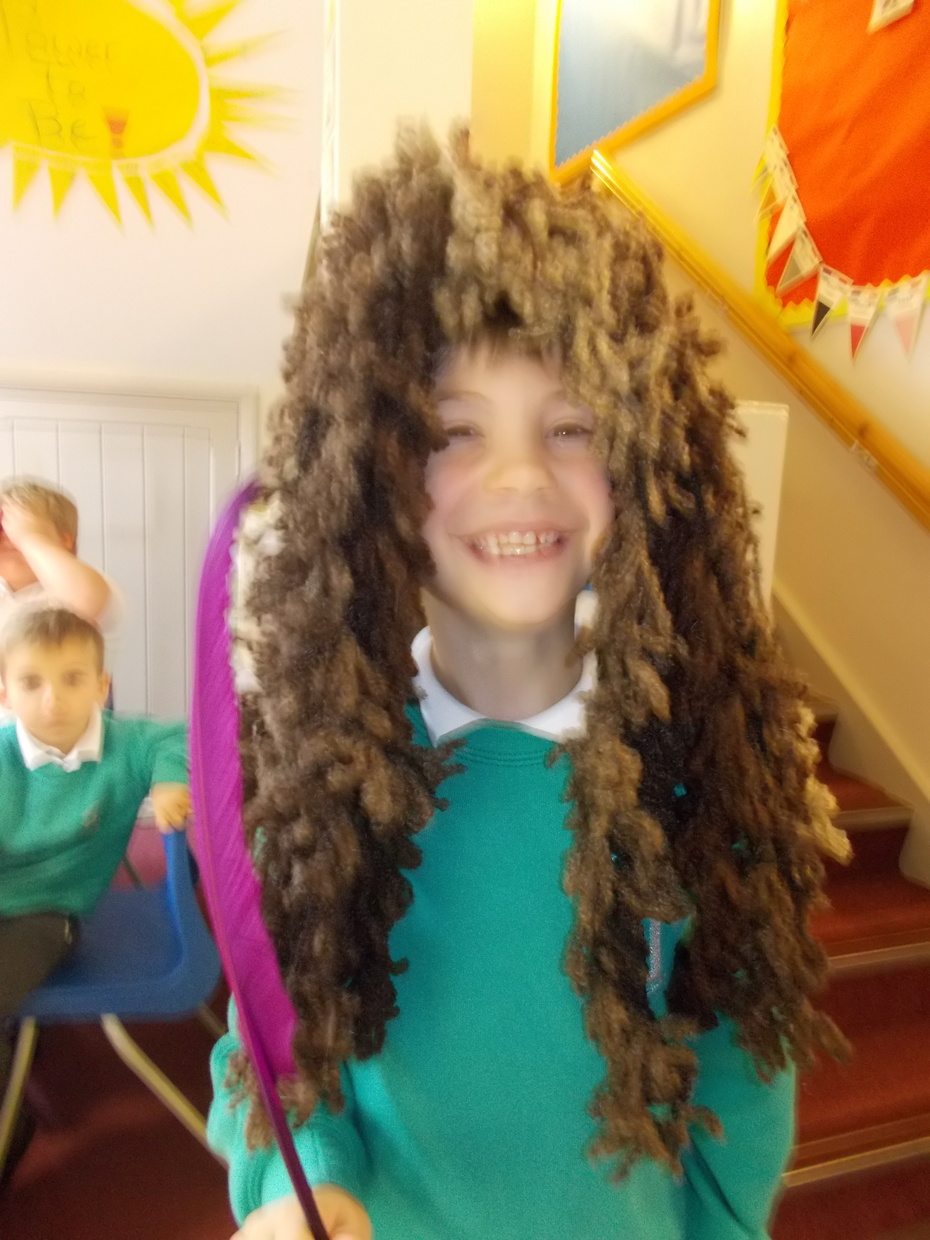 Chris made a Stuart style wig.
The children have made a fiery silhouette of 'The Great Fire' using tissue paper and black card.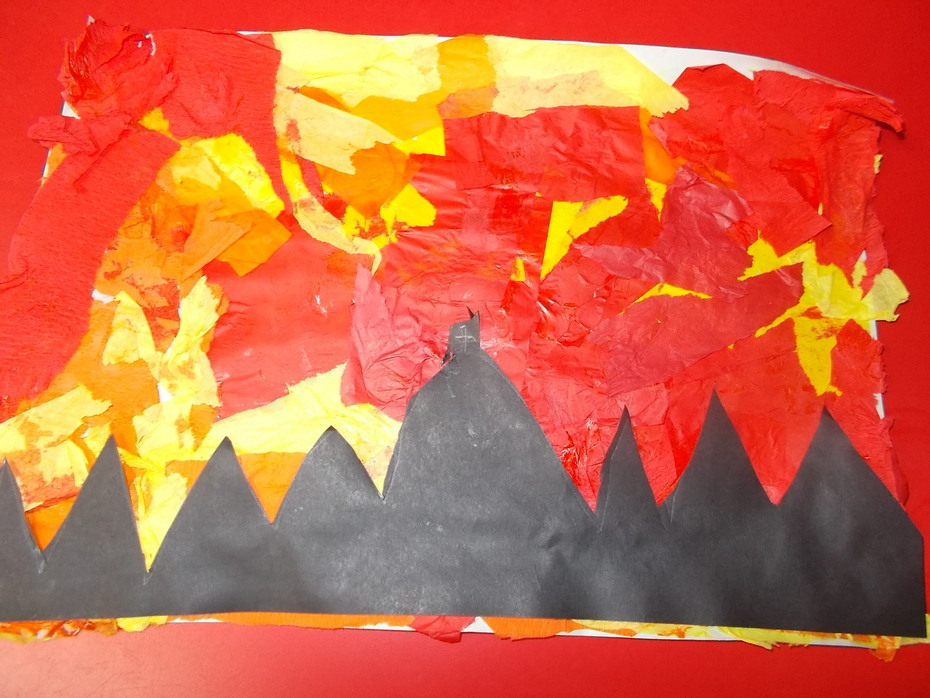 The children have each written a recount of the events of the fire, as if they were there.