Dear Parents in Class One
It's only a week until we break up for the summer holidays so I thought you would like to see some recent photographs of the end of term! Thank you for an amazing, splendid and exciting year with your children. I have thoroughly enjoyed teaching each and every one of them and hope I will be able to come back and visit them soon.
Have a wonderful summer break - you all deserve it!!
All the best, Mrs Leyland :)
Welcome to Class One's Webpage.
Our trip to the Rainbow Factory
We had such an amazing day, learning all about the wolf in the story of Little Red Riding Hood and how actually he was just hungry and Little Red's picnic basket smelled so good- especially the chocolate cake! We watched the show with great excitement and joy.
The children were amazing, they joined in with the story and the activities with excellent behaviour and understanding, well done Class One.
2nd March 2018 - Book Day - A day of Books, Costumes, Stories, Cakes and lots of fun!! See photos below . . .
We were so lucky this week when we had a very small visitor in Class One.
To support our interest in learning about what we were all like as babies, we had a visit from a real (very cute) baby. The children were thrilled so thank you for coming to see us little one!!
The children learnt about what babies eat, what they like to do, how to keep them safe and warm, how to look after them and lots of the class got a little cuddle. She was so sweet and giggled a lot!!
Have a look at the photographs below.
February 2018
Hi Everyone
Below are some fantastic pictures of the children busy learning over last couple of weeks. I hope you enjoy them.
We have - Book week - Ring the bell and read a book, repeating patterns, using pegs to make patterns and pictures. A group castle construction using all the great boxes the parents have sent in, and exploring 3D shapes as well as role play and DT skills of joining and changing materials.
Hi, We hope you are still enjoying the snow, we have LOVED it, we have used it to learn lots of different ideas and concepts, here are some pictures of the children mixing colours using powder paint and making snow transporters.
6th December 2018
It was Nativity time this week!!
The Nativity was held at Minskip Farm shop in their lovely big barn. It was a day to remember with hay bales for the children and adults to sit on and the noises of 3 little piglets in the field behind. Emma and Ben were fantastic hosts selling mulled wine and mince pies for all to enjoy before the children arrived. There was such an air of excitement as they found their seats and found their adults in the audience for a wave and a smile.
The story was called Children of the World with angels travelling to far off lands to visit children and see what their traditions were. Here are a few pics for you, don't forget you can order photographs from the day, details were sent home in book bags about how to do this.
Thank you to everyone who came to watch, I hope you enjoyed it as much as we did!
Hi everyone
Here are some more photos for you to enjoy.
We had a cricket session in our PE lesson in which the children learnt how to control the bat, throw and catch the ball, field and run as many runs as they could. It was a great session, the children had to listen carefully to the instructions given by the teacher and master new physical skills too. Well done class One!
We have also had a visit from Kelly (William's mummy) to teach the children about Thanksgiving. They watched a thanksgiving video, read a book then they drew some observational pictures of fresh fruit and vegetables and thought about healthy food. Then they churned their own butter which was spread on the delicious cheesy scones everyone ate along with the vegetable stew that William had made at home.
Another day of learning was our investigation day. The children explored ice, seeing how long it took to melt and whether they could crack it using different utensils. They found out about gloop - some of them loved it, some weren't so sure! We had experiments with skittles too, adding water and watching the rainbow appear, this was a big hit and a highlight of the day!
We had a fantastic school trip to Harlow Carr Gardens last week. We found Autumn treasures of different colours, made bark rubbings, looked for hedgehogs, went climbing, ate our lunch on a bench, found a circle bench, found a bonfire tree (yes a bonfire tree!), saw some ducks, made pictures with leaves, travelled on the school bus and had lots of exercise.
The children's behaviour was exceptionally good and we are hoping to return in the spring to see how things have changed.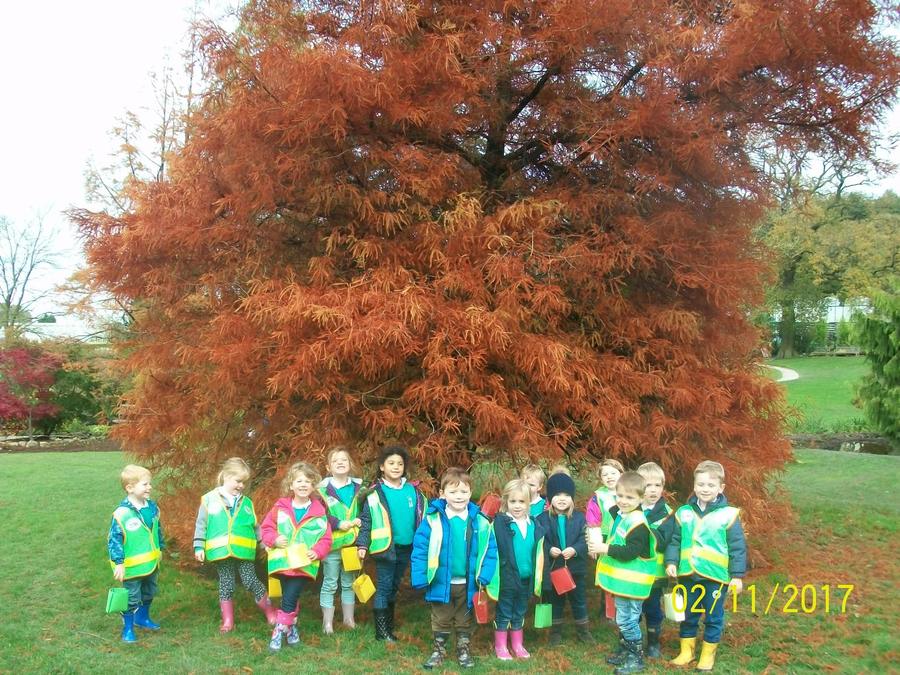 Hi Everyone
It's the last day of our first half term, can you believe it has gone all ready?
The last couple of weeks has been learning about harvest, Handa's surprise, Autumn and pumpkins! The children went over to St Mary's church for our Harvest Festival. They showed everyone their class cross and sang 'Big red Combine Harvester' to everyone, then they all received a children's bible.
Then Toby brought in a pumpkin! It was huge and everyone had a go at scooping it out. We read Pumpkin Soup by Helen Cooper and had a go at making our own imaginary soup using different ingredients. Then we started making purple potion using pumpkin seeds and learnt skills in pouring carefully, measuring, estimating and using new language.
Next up was our Autumn walk around the village. Each child had a treasure box and collected conkers, acorns, leaves, pine needles and some children drew pictures of their treasure when we got back to class.
Below are some photographs for you to enjoy, as you can see the children have a great time at school at don't realise how much they are learning!
See you all soon!
22nd September
Dear Class One
We are three weeks in and and it's been a fantastic 3 weeks!
The children have been amazing, they have been measuring quantities whilst making cakes, making secret dens using blocks and boxes, they have had a visit from a very sweet hedgehog called Hedgy, had 2 PE lessons and started to learn their sounds ready for reading and writing.
They have also planned a party for Monday next week using all the areas of learning. Here is a copy of the letter sent home for the party (click here) and this week's letter (click here). All the children are very excited and all the planning has enabled them to learn and work together as a team.
Below are some photographs for you from the last 2 weeks - enjoy!
Mrs Leyland
Dear Parents, Grandparents and children
A very, very warm welcome to the new reception Class of 2017, It has been so fab to see how you have all settled in to school so quickly! We have already and bug hunts and found spiders and beetles and worms and snails. We have been very busy painting spiders, making spider models and finding out about spiders. Did you know some spiders look like crabs? We have been making cherry berry cakes in the mud kitchen and playing firefighters keeping the school safe from fire and danger.
Below are some photographs for you to see how busy your children have been, we hope you enjoy seeing them as much as I have enjoyed taking them!
Mrs Leyland (Early Years teacher)
Children in Class 1 have fun and learn at the same time – this is what makes them so happy to come to school each day. The children learn through activities either that they choose themselves or through small group teaching with the class teacher, Mrs Leyland, or one of the teaching assistants who support learning in Class 1. We have an amazing outdoor classroom which the children love and that we use each day.
The children follow a different curriculum to the rest of the school – The Early Years Foundation Stage (EYFS) which covers 7 areas of learning. The three prime areas of learning area:
Communication and language to develop children's language skills through an environment rich in communication and talk, and to enable children to listen and express ideas in a range of situations.
Physical development – to develop children's movement skills, both small and large, with hands on - physically challenging activities. To devlop a positive attitude about appropriate food and lifestyle choices
Personal Social and Emotional Development – To form happy relationships and allow children to be themselves and to gain in confidence, as well as learning to play fairly and to work as part of a group.
There are also four specific areas:
Literacy – Learning to link sounds and letters and to start to read and write
Mathematics – Provides children with opportunities to learn skills regarding number, counting, adding and subtraction through fun activities, and exploring the world of space, shape and measures.
Understanding the World – Encourages children to make sense of their world through learning about people, technology, places and the environment.
Expressive arts and design –Children are enabled to explore ideas using art, music, movement, creating things and using their imaginations.